Tiffany & Co. Flagship Store Decorated by SICIS
Tiffany & Co. ushers in a new chapter with the reopening of its iconic store – now known as "The Landmark" – on Fifth Avenue in New York City. The crown jewel of the New York landscape is among Manhattan's largest stores, offering a unique experience replete with custom artwork, never-before-seen jewels and immersive displays.
The Historical Opening
This holistic transformation – the first renovation since the store opened in 1940 – brought together two giants in the world of architecture. Architect and interior designer Peter Marino reimagined the interior, while the OMA New York firm, led by Shohei Shigematsu, spearheaded the renovation of the building's core, as well as the addition of a new three-story volume above the existing building. To honor the timeless charm of the boutique, the original façade has been refurbished, while the interiors have been completely reimagined into a new world of wonders.
NeoColbri by SICIS
This major renovation has been carried out with a strong focus on sustainability, underlining Tiffany's environmental, health, and well-being initiatives. SICIS created a custom Degrade NeoColibri Glass Mosaic for bathrooms in the legendary building. The NeoGlass mosaics are tesserae in different formats: Cubes, Domes, Barrels, and the additional shape of the Petites Fleurs collection, a little six-petal flower. This collection is now enriched with 70 NeoColibrì colors which blend the nuances of metallic shimmer with the formats and thicknesses of the NeoGlass collection.
NeoGlass glass is 6 mm thick rendering it particularly resistant to time and wear and uniquely appropriate for commercial floors. Exciting plays of light occur from the golds and metallics shimmering and reflecting, offset by the traditional transparent and iridescent glass. An eclectic and versatile collection, which can be used to create unique and inimitable patterns and murals, in infinite color variations suitable for floor or wall application, in either hand-cut and hand-laid artistic mosaics or in more contemporary "pixel" techniques.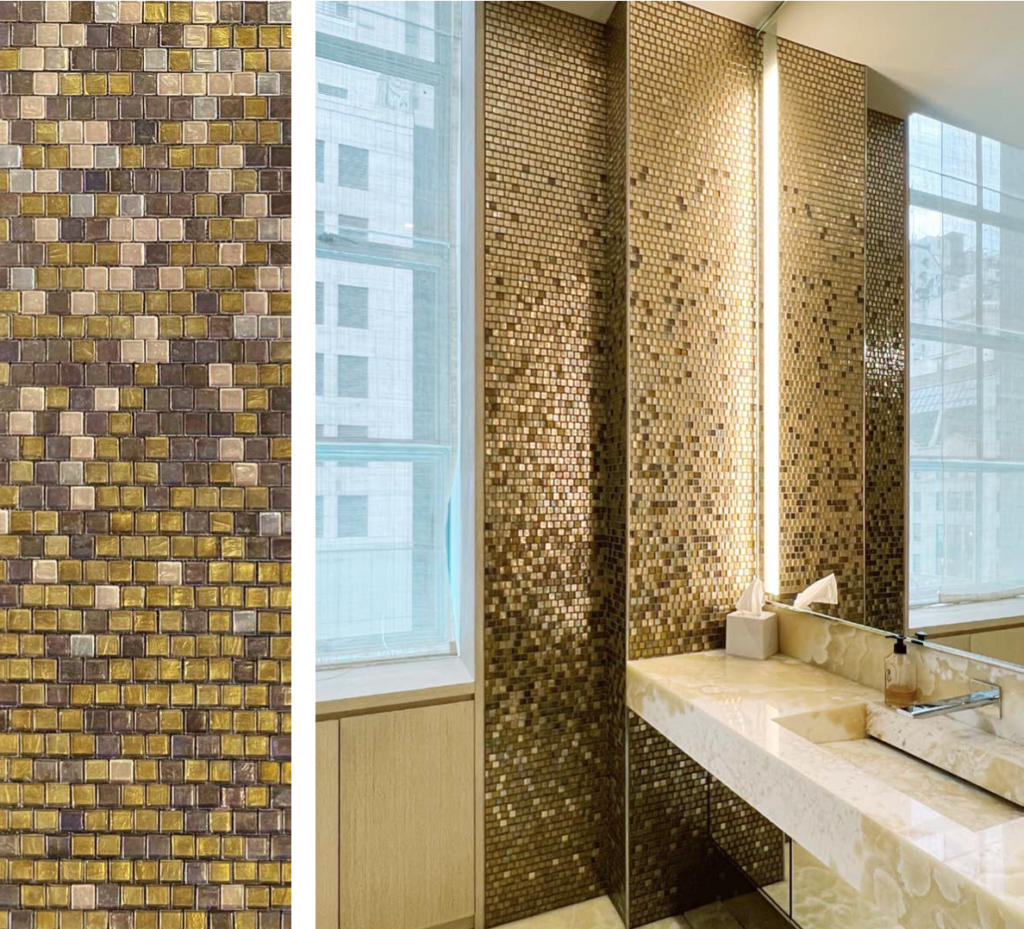 Find more about the SICIS factory in the 'Factories' section.