Elegant Balance of Traditions And Innovations: The New Marcel Collection by CIELO.
01.06.2023 #cielo
Ceramic washbasin with Talco finish, structure in solid black-stained ash, drawer in black-stained ash with a Vienna Straw front and solid wood frame. Round Box storage mirror, matt Black finish. Metal towel ring with a matt Black finish.
Inspired by the smooth, yet balanced and harmonious forms of Bauhaus, combined with the elegance and practicality of furniture made from curved solid wood and Viennese straw, the Marcel washbasin, designed by Andrea Parisio and Giuseppe Pezzano, reinterprets the distinctive stylistic code of "Viennese furniture" in a modern interpretation.
Alongside the new Marcel creation, Cielo continues its design journey where craftsmanship traditions engage in a dialogue with innovation. It is precisely this union that gives birth to an iconic model, reflecting the essence of the past while embracing new life trends.
This is a solution that brings elegance, lightness, and aesthetics to bathroom furniture, where the softness of ceramics is enhanced by a play of balance between various materials and intertwined textures.
The aesthetic connection between the elements in Marcel lies in the subtle craftsmanship of Ceramica Cielo. The skillful use of ceramics in all its nuances blends with the artistry of crafting cabinets from ash wood and the adept use of such a complex material with delicate texture – Viennese straw.
As a result, a unique product was created, a perfect example of the mastery of utilizing the factory's unique know-how. The main protagonist is always ceramics, which, thanks to the skilled hands of experienced craftsmen at Ceramica Cielo, makes the washbasin visually appealing and pleasant to the touch. The washbasin is available in glossy white color, as well as in matte and glossy shades from the "Terre" and "Acque di Cielo" color palettes.
Marcel: ceramic washbasin with a glossy White finish, structure in solid natural ash, drawer in natural ash with a Vienna Straw front and solid wood frame. Marcel rectangular mirror cabinet with double door, in natural ash and Vienna Straw front. Metal towel ring with a matt Black finish.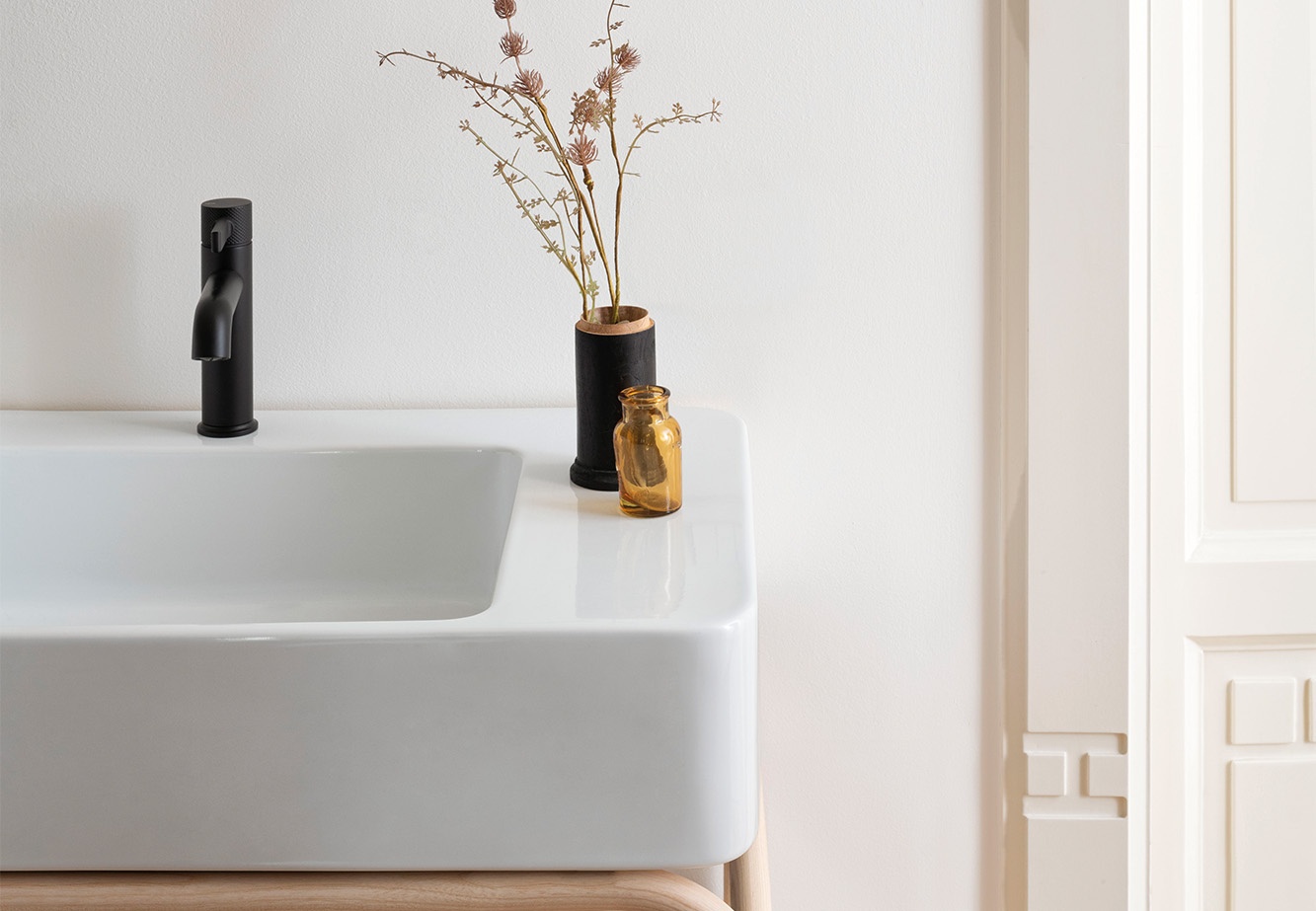 Created through a continuous pursuit of the perfect balance between formal rationality and material quality, Marcel has become even more functional and unique. This is all thanks to the ergonomic design of the pull-out drawer, whose front is covered in Viennese straw, and the base of the cabinet is made from solid ash wood, available in natural or black-stained finishes.
To make the bathroom even more unique, this iconic piece is complemented by the Marcel mirrored cabinet with double doors and a front panel covered in Viennese straw. The cabinet resembles the upholstery of a chest of drawers, ensuring maximum stylistic harmony and compositional freedom.
Congratulations to Ceramica Cielo for receiving the Archiproducts Design Awards 2022 for Marcel Collection.
Ceramica Cielo
"Human at the center of our industrial project" – Cielo
The expression "Made in Italy," accompanying the Cielo brand embodies the values that distinguish the excellence of Italian manufacturing, considered a benchmark worldwide: design quality, selection of the finest materials, attention to detail, craftsmanship expertise, and a constant pursuit of harmony between form and function.
"Contrary to the industrial logic of recent decades, our choice has been to bring back the 'culture of hands' to the center, a culture that has been eroded by mass production and its obsession with hourly and production costs. We aspire for Cielo to become a 'workshop' of the Renaissance era, fully embracing the 'Made in Italy' status, where the 'culture of hands' triumphs over mechanization, in favor of the professional dignity of individuals who once again become master craftsmen."